ChristmasTime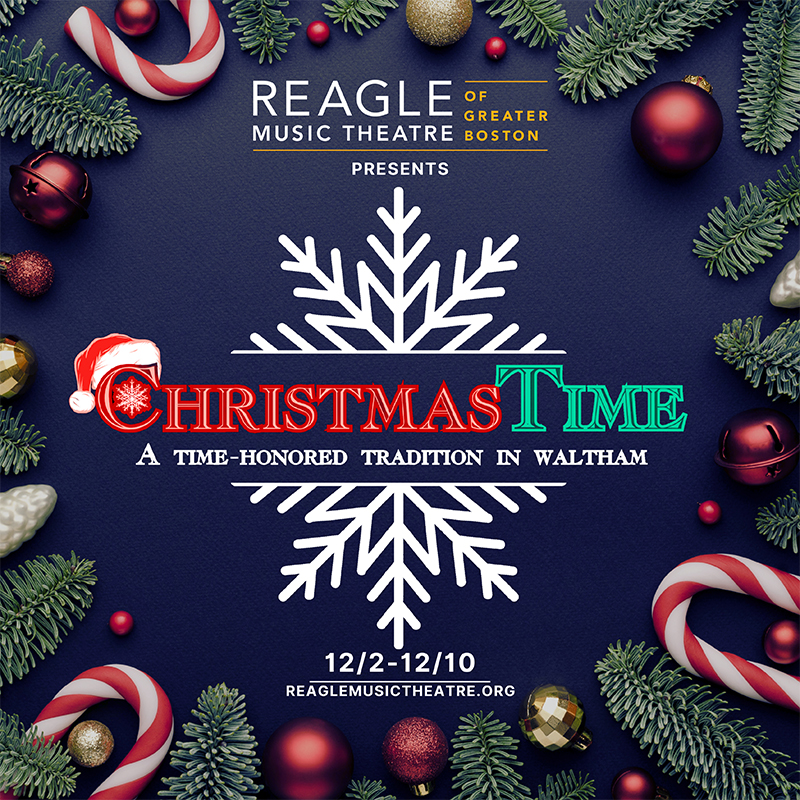 Mainstage
December 2 - December 10
ChristmasTime
Performances
Saturday, December 2
12:00 PM
Saturday, December 2
4:00 PM
Sunday, December 3
2:00 PM
Saturday, December 9
12:00 PM
Saturday, December 9
4:00 PM
Sunday, December 10
2:00 PM
Haul out the holly! Reagle's beloved Christmas extravaganza returns to the stage in 2023 in a production that will entertain children and adults of all ages.
Featuring a cast of more than 100 performers and a live orchestra, the 2023 edition of ChristmasTime includes precision dancers, a living nativity, a visit to the North Pole, a glimpse of Victorian Christmas in Boston, and more than twenty yuletide tunes.
RMT is once again thrilled to return to the stage for this beloved and classic Holiday Show. Spend the holidays with Reagle this year and don't miss the Greater Boston area's best seasonal show.
Venue
Robinson Theatre
617 Lexington St.
Waltham, MA 02452
Ticket Information
Section C Tickets: $38
Section B Tickets: $48
Section A Tickets: $58
Premium Section Tickets: $68
Seniors: $5 off any seating section
Young Adults 13-22: $5 off any seating section
Kids 5-12: $25
No children under the age of 5 will be permitted in the theatre, including babes in arms.